With the sun beginning to stretch its rays longer and longer throughout the day, you might begin to think about spending more time outdoors.
More specifically, garden design crosses your mind.
Maybe you're finally finding time to get started on that garden you've always dreamed of. Or maybe you're looking to change it up.
Regardless of where you're at in the gardening phase, here are some top ways to get the most out of your garden.
1. Use Variety in your Garden Design
There are many elements you can focus on to really make your landscape shine as an oasis while reflecting your personality and style.
Consider the following elements:
Colours
Bright, vibrant, and maybe even a little whimsical, colours evoke draw the eye and arouse emotion. The colours you choose can add to your theme, like bright strong colours in a tropical themed design, or create a calming space like using blues and greens to rest the eyes. Read our blog on using colours in a garden design for more.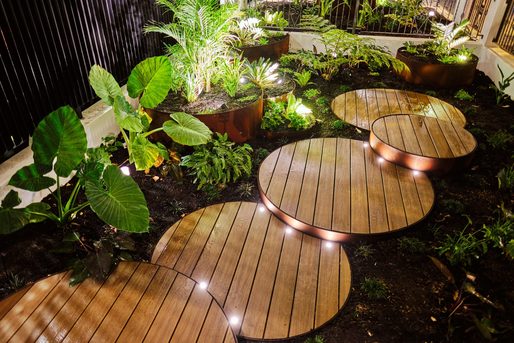 Shapes
Using various shapes of plants can function as a method of dividing space. Differing plant shapes can also invoke creative architectural stimulation. Instead of always straight lines in your garden beds, use curves to draw the eye to certain focal points in your garden design. Cotten steel edging is a great way to create shape and seperate areas of your garden such as the lawns from the beds. When designing, don't be afraid to experiment with drawing the same features; walkway, paving, lawns and beds, multiple times in different shapes to find the one that works best in your space.https://perth-landscaping.com.au/landscape-construction-perth/perth-paving-services/
Texture
Mingling textures of plants will make you stop and appreciate the effect they bring to the landscape design. Texture arouses emotion – you can't help but want to touch each one and feel the difference. Creating layered effects within your garden beds or hedging adds interest to your design and allows you to plant for every season so you always have something flowering or green year-round.
Contrast
Combining colours, shapes, and texture provides you with contrast. Contrast works to show off the differences of each plant and keep your design interesting. Depending on your theme, you can use plants, trees and even features in your design like sculptures and gravel or mulches, to add colour and interest to every area of your garden.
A garden is a reflection of you, after all.
2. Make your garden work for you
One of the most common ways you can make your garden work for you is by planting fruits and vegetables.
Rather than taking yet another trip to the supermarket to buy these food essentials, you can experience the payoff of growing your own.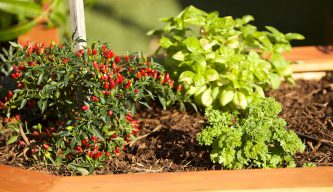 There's nothing quite like taking a bite of a crisp tomato grown right at home, or adding just-picked herbs to your meal.
What's more, you can put your garden to work in other ways as well.
How?
By creating a relaxing haven that you can sneak off to when you just need some peace and quiet from a hectic day.
Studies show that there is an overall positive correlation with gardening and health. For example, gardening helps with:
depression
anxiety
physical body
life satisfaction
quality of life
So how can you get your serene gardening on? Try adding:
a water feature – there's nothing like the calming sound of running water
wind-chimes
spiritual figures or fluid sculptures
3. Understand Your Landscape
While you consider what plants, colours, and shapes, make it a goal to understand your space. This means looking at:
the size of your yard
where the sun primarily shines
where the shade is
how big you want your garden to be
the soil type and location of your area
With these aspects in mind, you will be better equipped to create a thoughtful design from your space.
Maybe you'll want artificial lights lining a pathway to safely walk at night to your shed. Perhaps your flowers won't grow in the place you had in mind because of light and shade. Maybe the tree you want to plant will grow too large for your section.
There are lots of aspects and questions to think about when it comes to a design. Read here for what to consider before a garden design.
Need help?
If you need any help in creating the perfect garden design, give our expert landscape gardeners a call or email us. We'll be happy to help you every step of the way!