Are you looking for front garden ideas to inspire you?
You can make a huge difference to how your front garden looks with some very simple and budget-friendly ideas.
Before you start planning any landscaping project, it's important to step outside and take a look at how you are using your space now, and figure out what you really want from it.
Does it suit your lifestyle? Do you want an area to sit in, or simply look at and enjoy? Do you need more privacy or more spaces for the kids to play in? This will help you choose the right elements to add to really create a space you will love.
Everyone has their own budget and priorities, and the best part about landscaping is that there is no one right way to do it.
12 Simple Front Garden Ideas
So whether you have a large or restricted budget, large or small yard, here are our top 12 simple front garden ideas that you can gain inspiration from to improve the look and enjoyment of your home.
1. Wall Garden / Vertical Garden
A wall garden is an excellent alternative if you lack the space for a traditional garden or are just looking for a minimalistic front garden design.
A vertical garden makes you feel like you're surrounded by greenery.
There are several different ways you can build your garden from the ground up.
You can create a metal mesh and hang potted plants.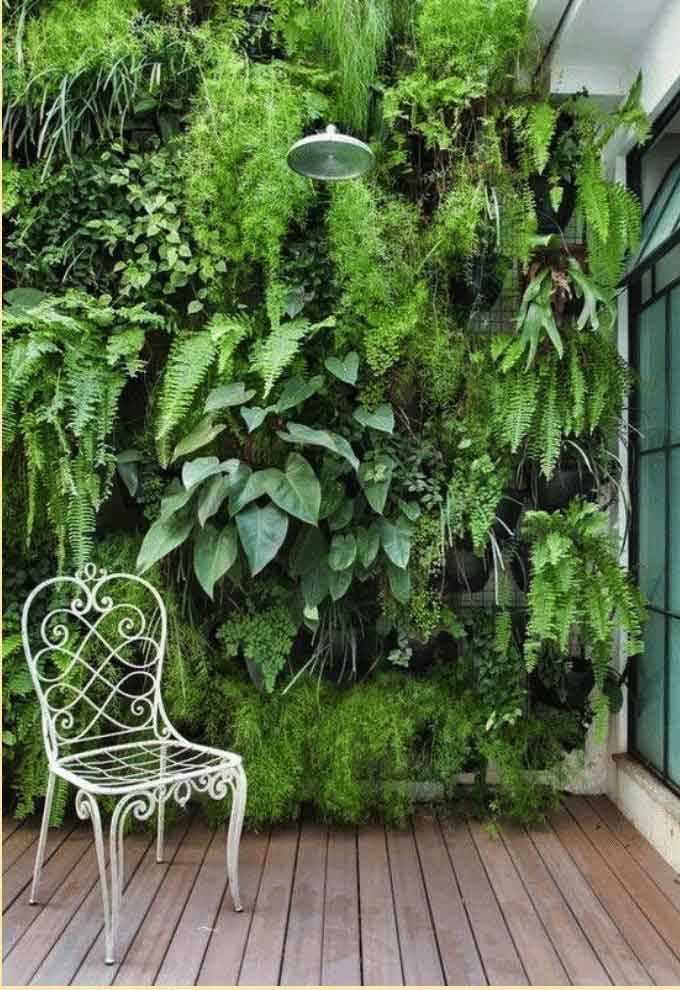 You can use pallets as wall planters.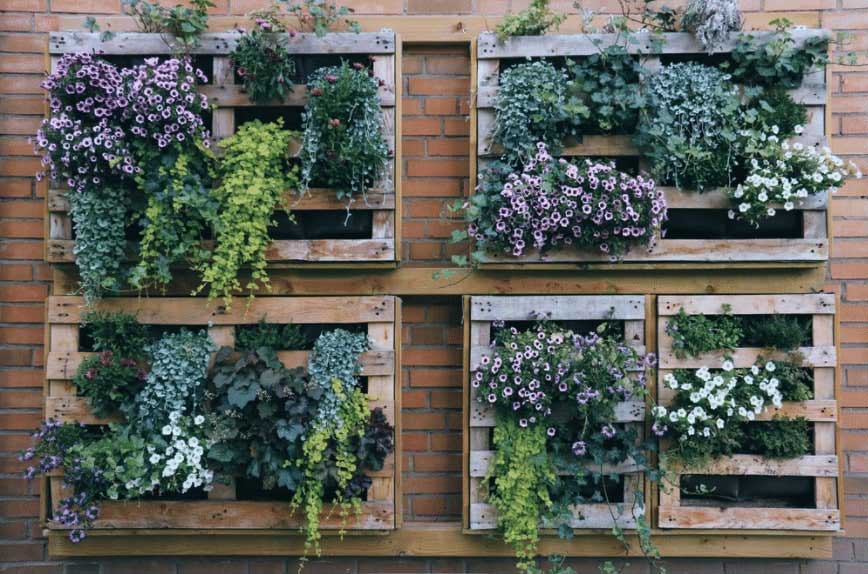 You can use climbers and colourful flowering plants to brighten up your space
Or you can simply take advantage of trailing plants and create a lush green wall without much work –there are many hanging plants, like Devils Ivy that are also very low maintenance!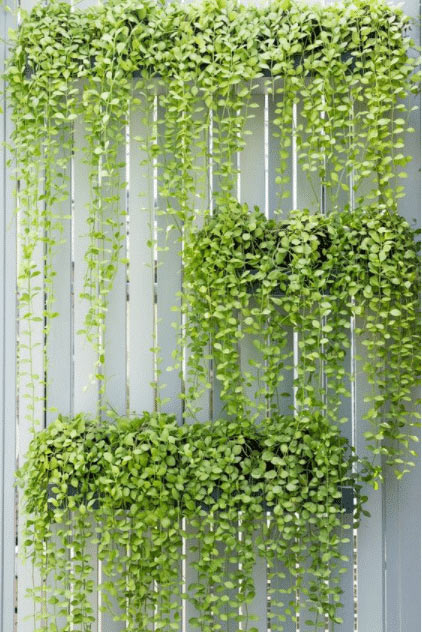 2. Layer Plants
Selecting different plants and layering them with varying heights can make it seem like your front yard is much more spacious than it actually is – while adding privacy and interest to your space.
If your front garden space isn't large, use layering to create an illusion of a bigger space.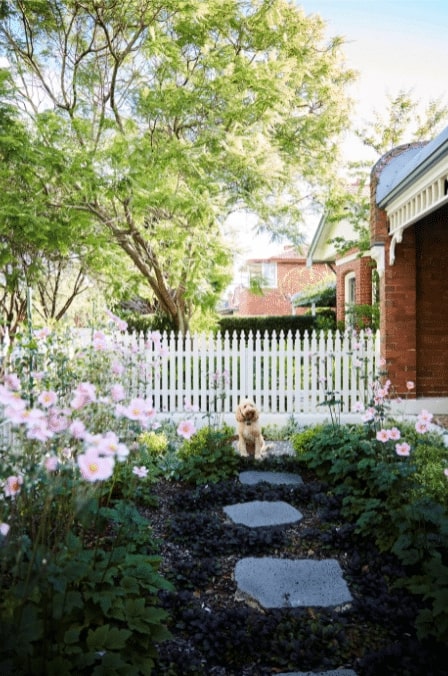 3. Swinging Chairs
Adding a garden chair, swing seat, or hammock is a fun twist to your outdoor space, is a low maintenance front garden idea.
It's a very cozy setting and an excellent way for you to spend your lazy Perth summer days outdoors with a book or a chilly night gazing at the stars.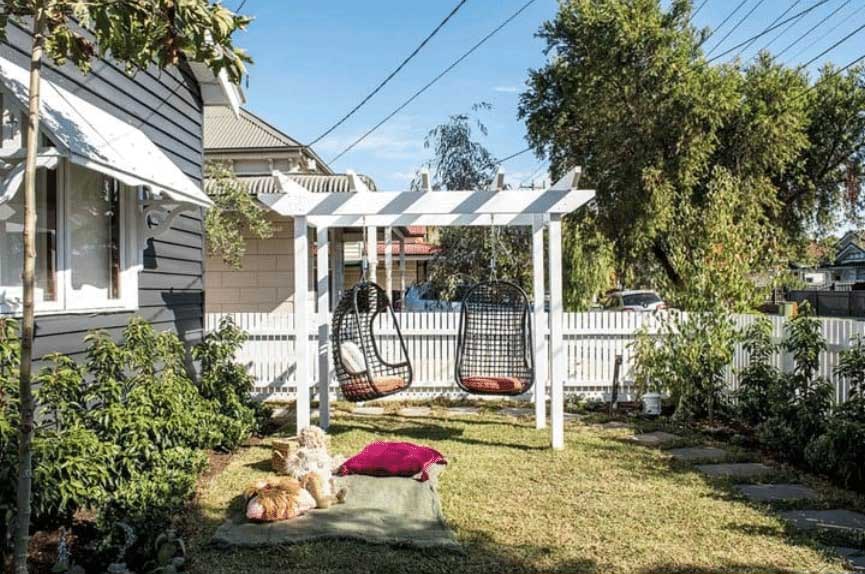 4. Outdoor Table Set
We live in sunny Perth, so an outdoor eating and entertaining area is a must and adds a comfortable, homey vibe to your front garden.
You can go for the traditional outdoor sitting arrangement for enjoying a coffee in the sun.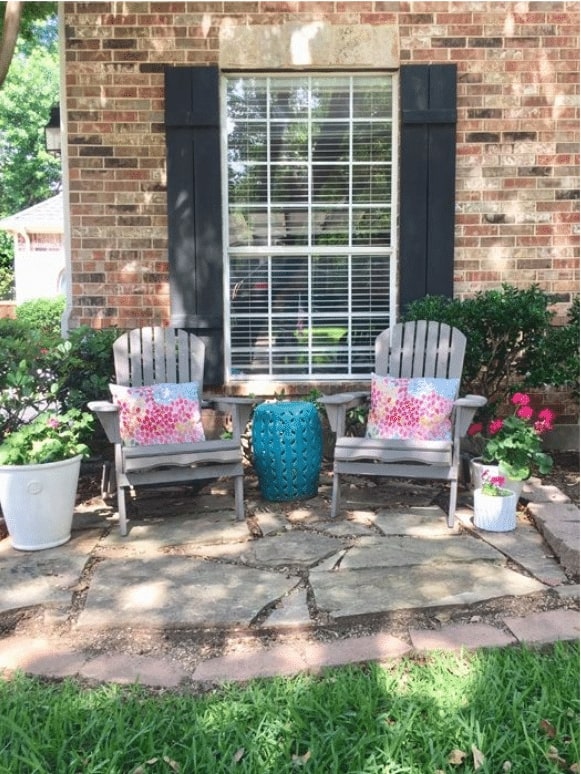 Or maybe you can try to be a little creative with your sitting space and use decking and throw pillows for a more minimal, versatile sitting and hangout area.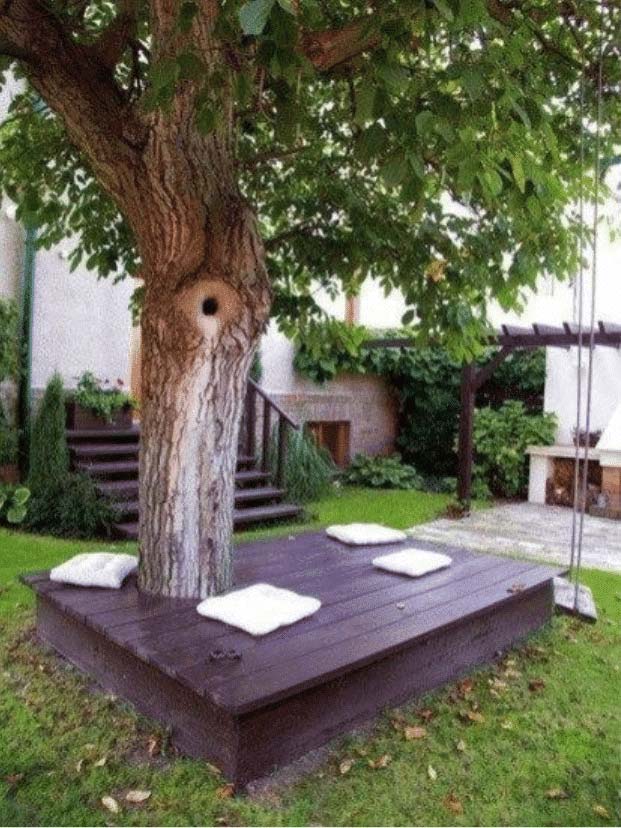 5. Pathway
Create an entrance that welcomes visitors and keeps shoes clean and dry with a pathway that also complements the look of your front garden design. There are so many materials, from gravel to paving stones and pebbles that can make your pathway not just functional but a feature of the front of your home.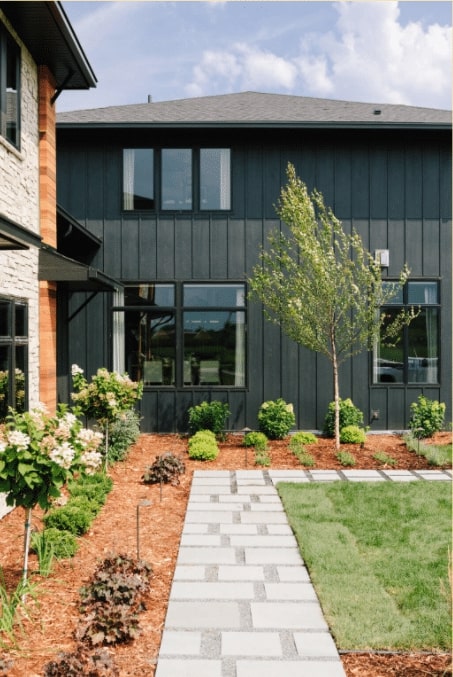 Using stepping stones and pavers is, by far, one of the best ways to build an elegant pathway to your front door and is a great way to use colours that will complement the theme of your garden or home decor.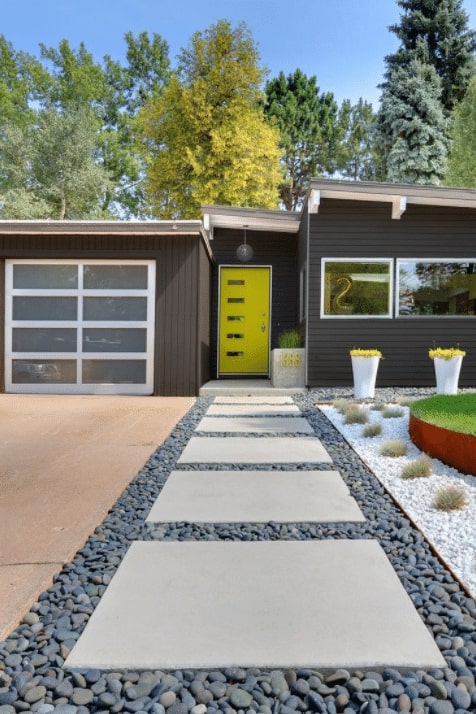 6. Garden Ponds
Building a small pond in your front garden is not as complicated as you may think.
You can build a pretty little pond right next to your front porch and make it look even more aesthetically pleasing by using different kinds of pebbles and plants.
While you may choose to add fish to your pond, it will require more effort and maintenance on your part, with regular cleaning and care required. Just a pond on it's own, surrounded by greenery that bubbles and creates the sounds of running water makes a great feature and a relaxing addition to any garden.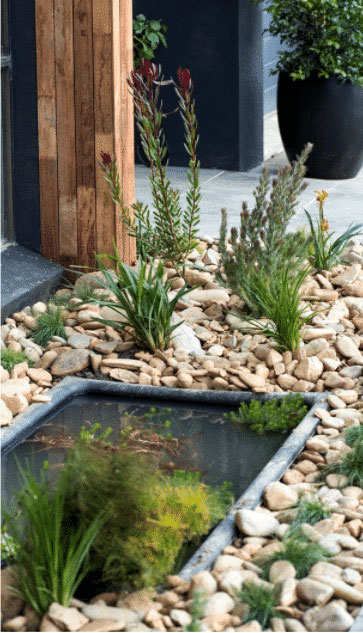 7. Water Fountains
If a pond isn't for you, there are many water fountains that basically take care of themselves and make a striking addition to your garden while creating audible soothing water sounds. Water is an extremely soothing element to add to your front garden.
So, if you're looking for low maintenance front garden ideas that incorporate water into your front garden design, just google garden water features, and you'll get fantastic inspirations like this one.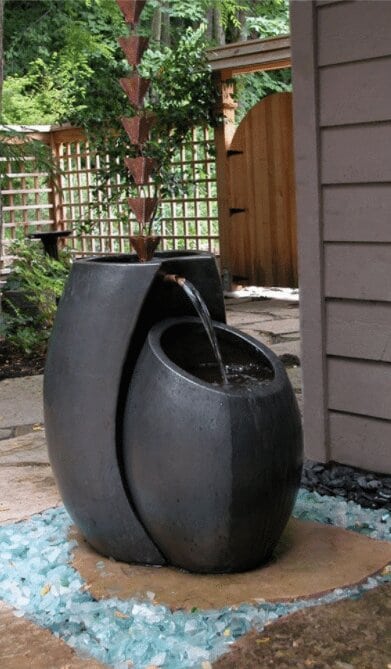 8. Creative Centrepieces
Instead of trying to come up with something extravagant, if you have a small garden, just create a beautiful centrepiece by planting a large bowl with low maintenance plants like succulents that can dress up an outdoor table or corner of your outdoor area.
Even this simple combination of water, rocks, and greenery in a large bowl can add interest and become its own feature in your garden area.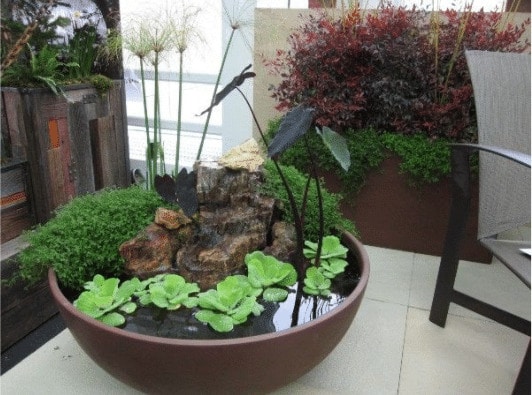 9. Modern Lighting
Give your front yard an elegant look with modern and creative lights to add highlights to certain areas or plants and make your garden a stunning place to enjoy at night.
These days, there are so many inventive outdoor lights that you can choose from, which means you can easily pick out something that's unique and suits your area and budget
Built-in lighting is a great option and a more subtle way to make walking outside at night safer while showcasing the shapes and elements of your garden.
From illuminating your pathway, spotlighting along your garden beds or including built-in lighting around your deck, we love what garden lighting brings to a space.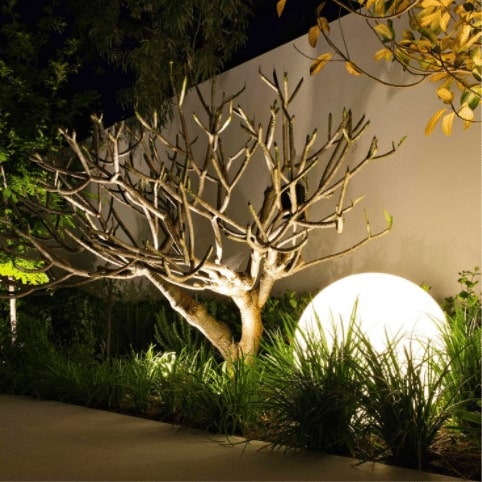 10. Natural Materials
Don't just think plants or concrete when creating your front garden, mixing natural elements like stone and wood add interest and add a softer, more natural feel to your front garden design.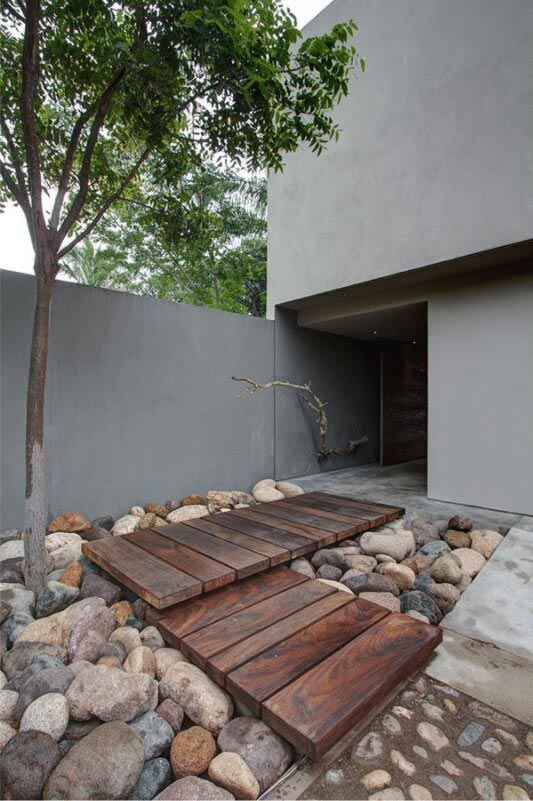 You can add a few touches of greenery and water to complete the landscape for a very low maintenance front yard that still looks striking.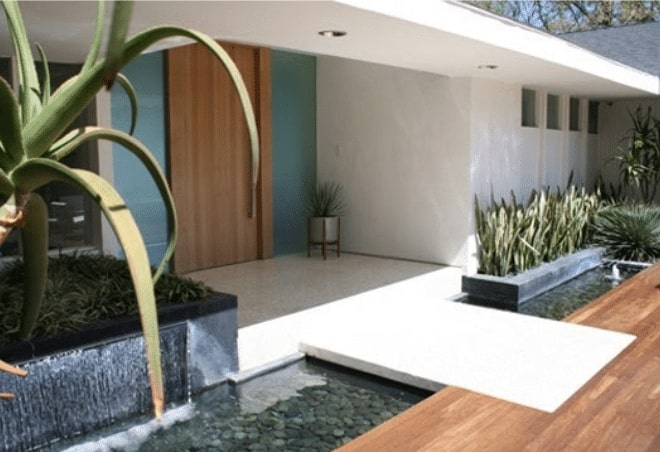 11. Use Every Corner
If you want more space for the kids or pets to play, use the nooks and crannies around your home for creating spots of colour with plants, pots and other garden elements. Front garden design ideas like these, leave the majority of your space free for lawn, while still creating interest and a beautiful garden area to enjoy.
This allows you to keep the rest of your front yard minimalistic while adding a little bit of flair.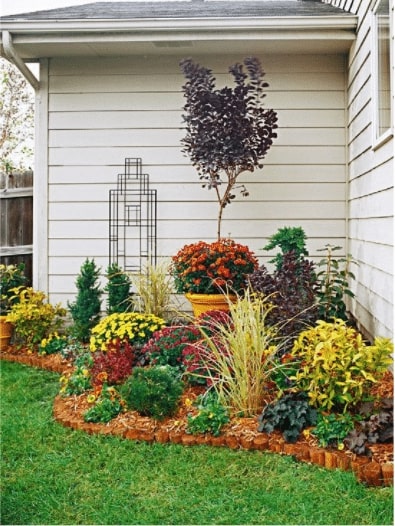 12. Pot Plant Staging
Turn the humble pot plant into a beautiful garden feature by mixing sizes and shapes to create a layered look.
Our top tips – don't choose an even number; go with either three or five pots. Odd numbers create interest. For a minimal look, have a single plant in each, or pack tall, medium and hanging plants in each pot for a lush, abundant look – this look is our favourite.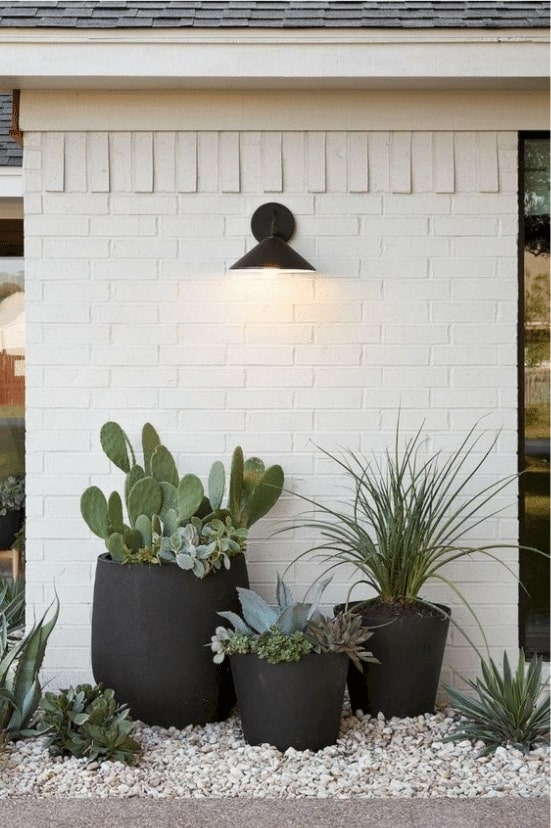 And those are our best front garden ideas to help you get inspired from and create a perfect front yard for your home!
If you want someone to help you create or refresh your front garden, get in touch with us, and we'll create a yard that'll be the talk of the entire neighborhood.