Decking Design and Installation
Bespoke Decking Services in Perth
Thinking of building a new deck? We can help!
The right decking design is a great way to extend your living space, create an outdoor dining area, or add a feature area to your yard. Enjoy indoor-outdoor flow and make the most of our sunny Perth climate. A quality deck is also easy to maintain – making it a great long-term option.
For Perth properties, having an outdoor entertaining and living area is a must! With our bespoke decking designs, our landscapers will ensure that your deck will suit the unique style of your home and the shape and space of your garden.
Get in touch today to see how our landscape construction professionals can help.
Professional Perth Decking Solutions
Whatever your landscaping project needs, our expert construction team will be able to design, supply and install the right decking solution to suit.
Using our experience and expertise, we design and build decks from a variety of quality materials that deliver durability and longevity for your outdoor areas. Whether you want a simple decking design to expand your alfresco area or want something custom-designed and unique, we can help.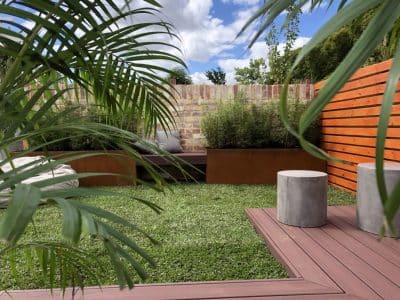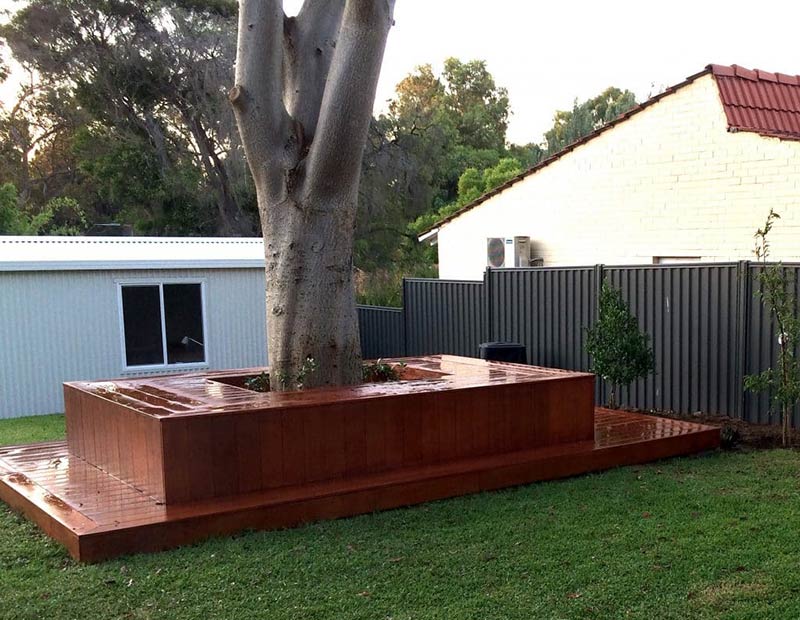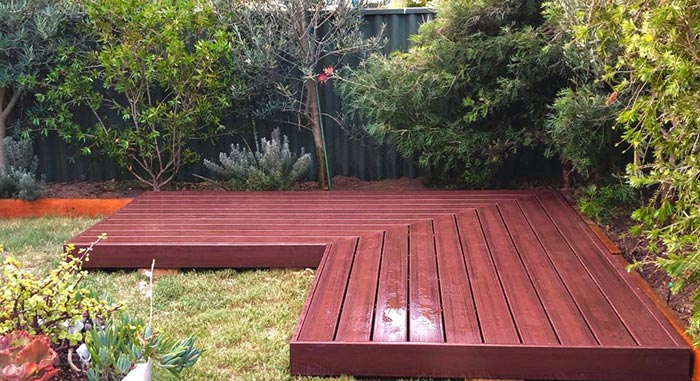 Complete Decking Services:
✓ Deck Design
✓ Decking Construction
✓ Custom Decking
✓ Full Alfresco Design & Install
✓ Outdoor Entertaining Areas
✓ Deck Extensions & Additions
Supplying All Decking Solutions:
✓ Australian hardwoods
✓Composite decking
✓Australian recycled hardwoods
✓Imported hardwoods
✓Low-Maintenance Decking
✓ And more…
Know exactly what you need?
 If you already know the type of decking material you require and can provide the measurements of the area where the deck is to be installed, we can provide you with a free estimate* to help get your project going.
*Will not include site preparation costs.
If you don't know this level of detail yet, you will need to book a Consulation with one of our landscapers below.
↓
Book a Design Consultation
If you have more complex, custom requirements or have no idea what you need and want advice from a professional on what is possible in your space, book an onsite consultation with one of our Landscape Designers today.
Frequently Asked Questions
Have a read through our frequently asked questions about our deck construction services – if you don't find the answers you are looking for, just get in touch with our expert Perth Landscaping team!
What is better - composite decking or timber decking?
Composite decking is becoming increasingly more popular despite the slightly higher cost as it is more durable and requires less maintenance than wood decking, keeping the same look and colour for longer. If you are looking for a material to provide a hassle-free deck this is the better choice. However, you may also prefer the look and feel of real wood, and want a real wood product to match your home or existing hardscaping construction.
At the end of the day, it comes down to your goals, your budget and your preference, although our landscapers are available to provide their assessment, recommendation and advice. If you want help from a professional in choosing the right decking material for you, just book in for a landscaping consultation above. 
Do I need council approval for decking in WA?
It's always best to check with your local council and Landscaper before constructing a deck on your property. As a general guide; you will need council approval if the decking is raised either equal to or greater than 500mm from your current ground level. You may also need approval if your decking area will be more than 900mm from your property line or higher than 2.4m.
Also, check to see if there are any additional requirements for approval, such as termite treatements or standards for decking in bush fire areas. 
What is the best wood to use for outdoor decking?
Some hardwoods are ideal for outdoor decking, such as Cedar and Redwood, but there are many composite decking options that have a similar look while being more durable due to their composition of natural wood fibres and recycled plastic products. They are also designed to be non-slip, so it's a safe outdoor choice. Whichever material you prefer, we can supply and install your deck for you, or if you need help choosing the right wood decking for your project, just book in a consultation with our landscapers above.