Decorative Garden Gravel Installation
Improve the look and health of your gardens with mulch and garden gravel solutions
Pebbles, garden gravel and mulch provide wide range of landscaping soultions for both practical and decorative purposes. With a variety of colours, textures and materials available, you will always find the right product to suit your landscaping design and budget.
From mulching to reduce weeds and create a tidier look for your garden beds, to using gravel and pebbles for modern and durable pathways, there are so many ways to use mulch and garden gravel to accentuate your landscape. 
Pebbles, garden gravel and mulch are great low-maintenance solutions for heavy foot-traffic areas in your landscape – such as driveways or pathways. Used as an alternative to concrete for a more 'organic' look to create extra parking or outdoor entertaining areas, they also allow water to drain quickly and don't require toppings up as much as regular mulch. For garden beds with few plants, it can be a good solution to keep weed growth in check, but doesn't add the same health benefits to the soil as pine bark or other mulch will. If you need pebbles or gravel in your landscape design, we can help. 
Some uses include:
✓ Driveways
✓ Pathways
✓ Garden Beds
✓ Outdoor Entertaining Areas
✓ Footpath Edging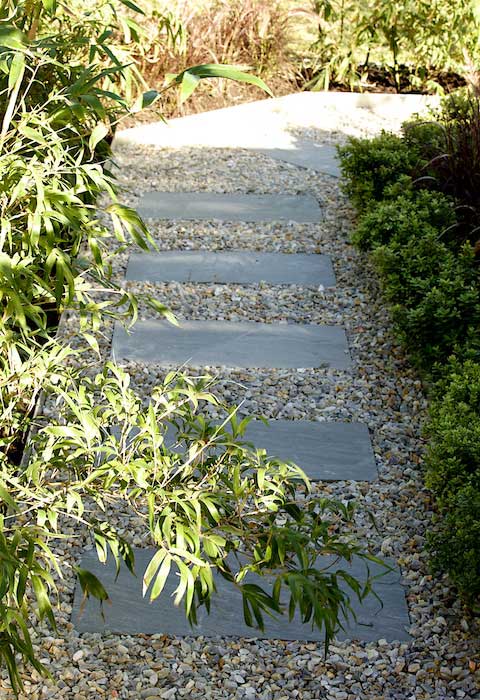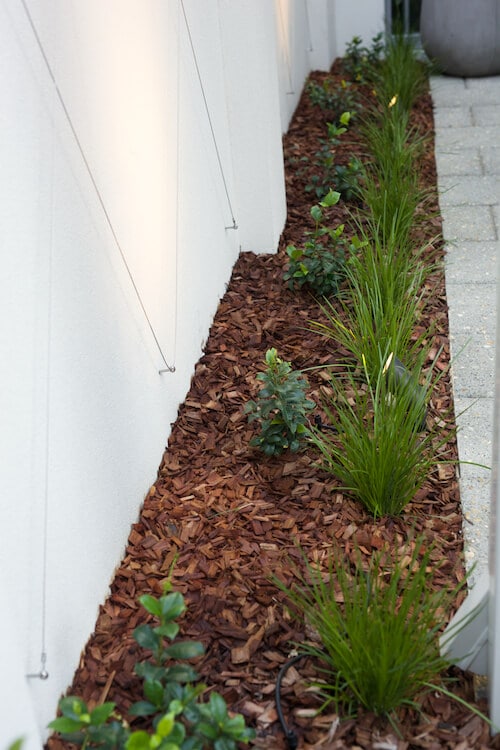 Mulching is a great solution, providing many health and asthetic benefits for gardens. A good quality mulch will not only make your gardens look tidy and cared for, but help the soil retain moisture, conserving water resources and saving money. It also helps prevent weed growth and makes pulling out the weeds that do manage to grow much easier, while naturally breaking down over time and improving the quality of the soil itself. With many colour options available, you can also make sure that it complements the theme and style of your landscape.
Mulch options include:
✓ Pine Bark
✓ Black Mulch
✓ Woodchips
✓ Straw
✓ Shredded Bark
Know exactly what you need?
 If you already know the type and quantity of the garden gravel or mulch material you require and can provide the measurements of the area to be installed, we can provide you with a free estimate* to help get your project going.
*Will not include site preparation costs.
If you don't know this level of detail yet, you will need to book a consultation with one of our landscapers below.
↓
Book a Design Consultation
If you have more complex, custom requirements or have no idea what you need and want advice from a professional on what is possible in your space, book an onsite consultation with one of our Landscape Designers today.
Frequently Asked Questions
Have a read through our frequently asked questions about our mulching and gravel services – if you don't find the answers you are looking for, just get in touch with our expert Perth Landscaping team!
Which is better - gravel or mulch?
If you want a lower maintenance option and need somthing hardy enough to handle lots of foot or car traffic, then an inorganic gravel option might be best for your use. Generally we reccommend organic mulches, such as pine bark, when it comes to garden beds. As an organic product, it is better for the health of your gardens and soils, along with retaining moisture better than gravel or pebbles will. As always, it's a good idea to talk to a landscaper before making your choice to ensure it will be the right long-term solution for you.
Can you supply and install mulch or gravel as a one-off service?
Of course. Just provide us with the quantity, type and measurements of the area and we can provide you with a quote to supply and install the mulch or gravel for you. If your area needs to be leveled or tidied up first, we will then need to visit your site to include that within our quote. Just answer the questions above to get started.
What are the benefits of mulching solutions for my garden?
Mulch is a gardens best friend  for many reasons; it creates a tidy, 'finished' look in garden beds, it reduces water evaporation which keeps your garden healthier in warm weather and reduces the water bill, it acts as a protective layer to reduce weed growth and, when paired with a layer of soil improvement, it helps that layer break down and enrich the soil – you can actually watch it getting darker over time!
Talk to us about the mulching solutions available for your next landscaping project. 
Should I use garden gravel in my landscape?
There are many uses for garden gravel in both the look and functionality of your landscape; it can be used as a feature, as a hardwearing surface for high-traffic areas such as alfresco areas, pathways or firepits, or as an alternative to mulch. It looks great around pavers forming a pathway or as a minimal drainage 'barrier' beside garden beds or pathways to allow for runoff while still looking like a design feature. For garden gravel solutions and ideas for your landscape, get in touch with our landscape designers today. We can handle everything from the gravel supply to installation as part of your landscaping project.