Natural Turf Installation
Natural Lawn Installation in Perth
Natural turf installation, when properly cared for, and with the right irrigation system in place, will provide the best-looking result in a garden design- even in hot and sandy Perth.
Natural lawn gives a lush, vibrant look to your property, provides a healthy space for kids and pets to play while helping to cool the area around your home. We highly recommend using natural grass installation within your garden design.
We offer natural turf installation services, including supplying your new lawn – either as a stand-alone project or as part of your full landscaping design.
Professional Grass Installation in Perth
At Perth Landscaping Experts, we specialise in professional grass installation, including the supply of top-quality roll-on turf for our clients.
If you are looking to transform a sandy, overgrown backyard into a lush, green and manicured oasis, roll-on lawn creates an instant upgrade to the look and functionality of your space.
We can help you with everything from soil and site preparation, to turf installation and aftercare and maintenance. We will help turn your landscape into a space you and your family will enjoy spending time in.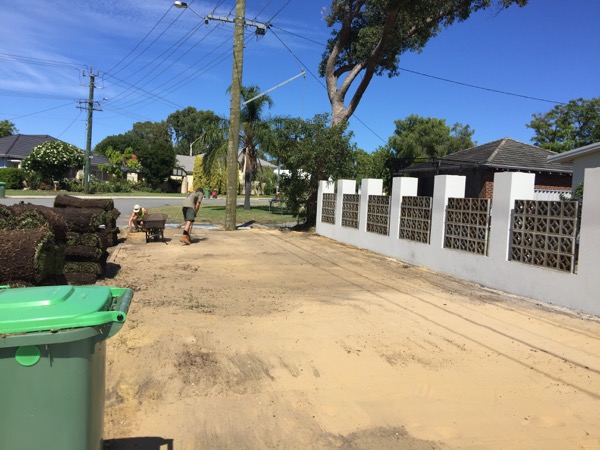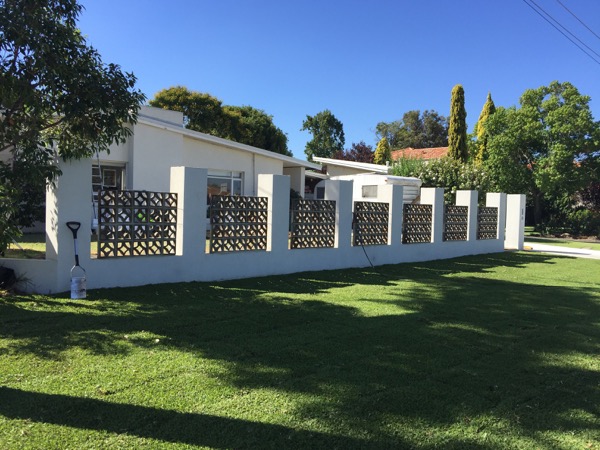 Complete Lawn Services:
✓ Site Clean-up & Preparation
✓ Soil Improvement
✓ Turf Installation
✓ Reticulation Installation
✓ Fertilising & Wetting Agents
✓ Aftercare & Maintenance
Supplying All Turf Varieties:
✓ Sir Walter Buffalo Lawn – soft-leaf & shade tolerant
✓ Wintergreen Couch – native variety
✓ Kikuyu – very hardy
✓ Empire Zoysia – low-maintenance
✓ Palmetto – good in light-shade
✓ And more…
Know exactly what you need?
 If you already know the type of lawn you require and can provide the measurements of the area where the turf installation is to be, along with any site access issues (will need to access yard through house, etc.), we can provide you with a free estimate* to help get your project going.
*Will not include site/soil preparation costs.
If you don't know this level of detail yet, you will need to book a Construction Consultation with one of our landscapers below so we can provide you with a quote.
↓
Book a Design Consultation
If you have more complex, custom requirements or have no idea what you need and want advice from a professional on what is possible in your space, book an onsite consultation with one of our Landscape Designers today.
Frequently Asked Questions
Have a read through our frequently asked questions about our natural turf installation services in Perth – if you don't find the answers you are looking for, just get in touch with our expert Perth Landscaping team!
Which natural lawn is the best for Perth?
There are, as always, many turf options to choose from, and it also depends on your location, soil, existing landscaping and lifestyle. Do you need a hardy variety to withstand your kids or pets playing on it? Do you need a low-maintenance or more water-saving option, or is it mostly for looks and you want the brightest, softest lawn variety possible?
Check out our blog here for more details on some of the more common lawn varieties and their pros and cons. Or, if you would like our professional assessment and recommendation, just get in touch using the form above.
Do you install synthetic lawn?
We avoid using synthetic turf as much as possible. Natural lawn is much better for the soil, reducing the heat around your property, the health of your pets and children, and much better for the planet. Covering an area in plastic is definitely something we want to avoid – so we always recommend using natural lawn installation whenever possible.
Sometimes, it may be the only option for certain properties – especially in locations where there might not be any sun or the homeowner does not want to install a reticulation system or can't care for it in the long term. We always take this into account and if it is the best option for you, then we can help.
My backyard is just sand - can I still install natural lawn?
Absolutely. We can also assist with soil preparation to ensure there is a new layer of good-quality, rich soil along with all the required wetting agents and fertilisers to give the lawn the nutrients it needs to help your lawn establish a great root system and grow strong and healthy.
What should I install first - my lawn or reticulation system?
Ideally, these can be completed in conjunction so the exact lawn area to be reticulated has been established by the landscapers – especially if you are installing a curved lawn design. Then, our landscapers can prepare the area and soil, providing a clean slate for the reticulation to be easily installed, then finish the job and install your brand new lawn.
If you have already installed your lawn, you can still install a reticulation system, but areas of your lawn will need to be dug into – so it's always best to work with a landscaper who can organise both the reticulation and the lawn for you for a seamless result. We have teams of professionals to handle both, so if you need reticulation and a new lawn, just get in touch.