Get away without the getaway!
Your garden is your daily escape, your own slice of heaven as you relax in peace and quiet surrounded by nature… the dream.
So why not theme it and bring the tropics to your own backyard with a tropical garden design?
Create that Bali magic in your Perth home and go on holiday every day.
To start with, spend some time figuring out answers to questions such as;
How will I use my space?
What is my current lifestyle like?
How much is my budget?
See here for more on what to do before hiring a landscape designer.
Once you have a basic idea of what you need to include, let's create the look!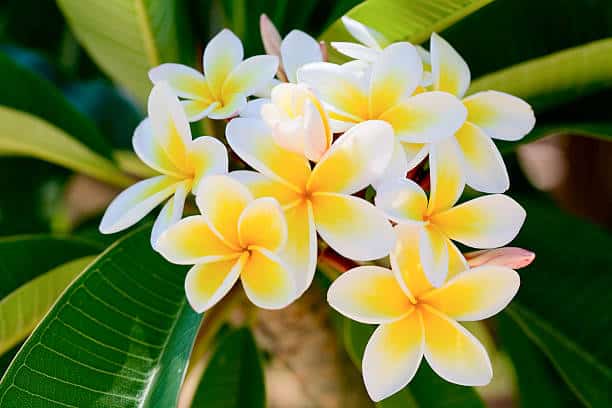 Foliage
Nothing says tropics like Frangipani, Bamboo and Palm trees! Tropical designs are all about using bold, bright colours such as red, orange, hot pink, and purple, in striking combinations throughout your garden. Even plants not tropical in origin can help create the look you are after.
Tropical looking Trees:
Canary Island Date Palm (Phoenix canariensis)
Frangipani (Plumeria rubra)
Jacaranda (Jacaranda mimosefolia)
Kentia Palm (Howea forsteriana)
Weeping Fig (Ficus benjamina)
Illawarra Flame Tree (Brachychiton acerifolius)
Purple Orchid Tree (Bauhinia purpurea)
Poinciana (Delonix regia)
Banana tree (Musa balbisiana)
Sacred Bali bamboo (Schizostachyum brachycladum)
Create green-screens with carefully placed trees and shrubs for a hidden oasis that is private as well as beautiful.
Shrubs to create a tropical garden:
Lilly Pilly (Syzygium species or Acmena species)
Bird of Paradise (Strelitzia)
Cordyline Palm (Cordyline fruticosa)
Mirror Bush plant (Coprosma repens)
Hawaiian Hibiscus (Hibiscus rosa-sinensis)
Bamboo (Nandina domestica)
Orange Jessamine (Murraya paniculata)
Dancing ladies (Oncidium species)
Sago palm (Cycas revoluta)
Spiral ginger (Cheilocostus speciosus)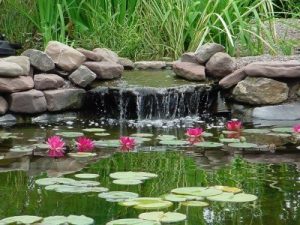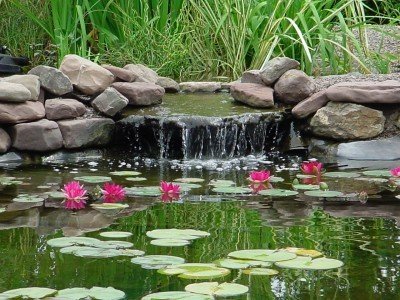 These are just some of the amazing plants you can choose for your tropical-inspired design – make sure to chat with your landscape designer for more ideas!
Water Features
Whether your budget includes a pool or not, a trickling water-feature is the perfect way to add a touch of holiday magic to your garden. Hidden away in a corner surrounded by bamboo, or as a focal point dotted with lilies, a pool adds the sights, sounds and moisture you need, as well as that feeling of calm and serenity that is important to pull off your design.
Using natural materials like rock adds to the feeling of 'escape', try to stay away from anything that looks man-made and detracts from the overall look of an untouched paradise.
If you have a swimming pool, surround it with foliage and try to incorporate the tropical touch of a waterfall feature or rock edging to help it blend into your design.
Try adding a:
Waterfall
Pond
Rock pool
Fish pond
Fountain
TIP: Floating plants such as Sacred Lotus, Yellow Water Fringe and the Snowflake or White Water Fringe, add a touch of beauty and tranquility to any pond.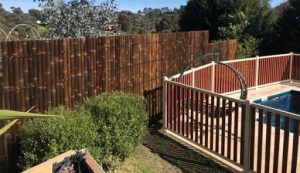 Herbs and Spices
Even if you aren't an avid cook, planting an Asian herb garden adds a delicious and authentic scent to your garden – and you might find they smell so good you'll want to incorporate them into your meals!
Find a nice moist and cool spot and plant cardamom, kaffir lime, edible ginger, lemongrass, coriander and mint.
There are so other many ways to add a touch of the tropical to your design
Consider using ground covers like Southern Blechnum Banksia, Leschenaultia formosa'Prostrate Red' or Grevillea nudiflora instead of grass – reducing weeds and covering your landscape in a blanket of beauty.
Add a Bali-style hut or outdoor bed to relax in, surrounded by bamboo and other foliage.
Stone features – walls, statues and around pools.
---
We hope this has helped fuel your imagination for your tropical garden design, and if we can help in any way from design to installation, the Perth Landscaping team are who you need! Get in touch and we will consult, create and construct your dream design so you can get away without the getaway!