Build stylish gardens that keep the hard work to a minimum with our low maintenance garden ideas – from smart planning to choosing the right plants and more.
When you have a garden, there is undoubtedly going to be some maintenance involved, whether you like it or not.
But lucky for you, there are many ways to build an easy maintenance garden so that you spend less time working and more time enjoying the outdoors.
While some may think they would have to live with a simple garden if they want fewer chores, we don't believe you should compromise style for an easy gardening life.
This is why we've put together this blog post with our 9 top tips for creating low-maintenance gardens here in Perth.
1. Plan Your Garden.
If you want to create a garden that doesn't require too much work to maintain, it's important to take the time to think about what you want and need, along with your lifestyle so you can plan the right elements to include in your garden design.
A great way to minimise maintenance is to create outdoor living areas that utilise paving or concrete for weed and maintenance-free areas that also encourage you to spend more time outside.
This way, you can enjoy your outdoors and entertain with friends and family, and focus your time and attention on maintaining specific garden areas that add greenery and look beautiful while taking much less work because you aren't maintaining your entire outdoor area.
By decreasing the size of your lawn, you have less mowing, weeding, pest control, fertilizing, and reseeding to do.
2. Choose the right plants.
If you want a really low-maintenance garden then you need choose native plants in your garden. Gardens that include a lot of tropical or non-native plants will always need more TLC in order to survive our particular Perth climate and soils.
Native plants have evolved and adapted to the climate and insects of our West Australian region, which means you won't have to baby them as you would have to if you go for other plants that aren't native to our area.
These easy-care beauties don't need much effort from us to survive and thrive.
3. Remember to Mulch!
Weeding can be a soul-breaking garden task, so mulching is an excellent way to cut down on the amount of work you need to do to stay on top of your weed control.
Mulching is when you lay a thick layer of chunky material around your plants, this can be done using organic materials such as wood chips or Pine Bark or by using inorganic materials such as gravels.
Not only does this trap the water in, but it also improves your soil texture with minimal effort, reduces the number of weeds growing through and quite importantly, makes the garden looks much tidier.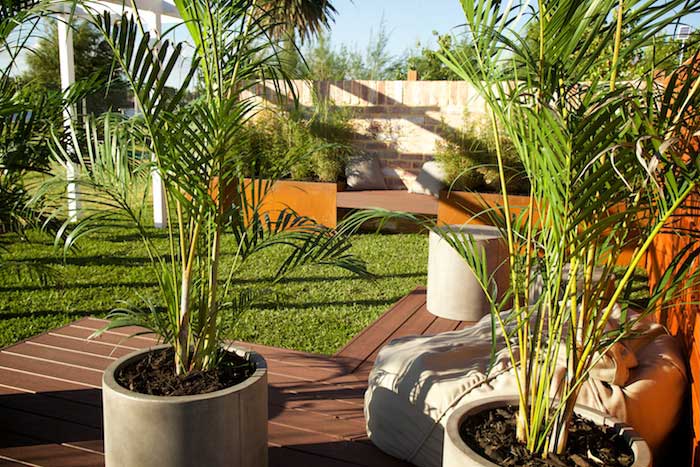 4. Add colour to your garden with flowers
Beautiful and vibrant flowers are always a sight to behold.
There are several resilient flowers that bloom throughout the year and can do so without much deadheading.
Petunias, Cosmos, and Begonias are some of the most beautiful flowers that remain appealing and lively year-round. Evergreen options are also a great way to keep a vibrant, healthy green colour in your garden year-round.
As always, do some research to get a better picture of which flowers suit your region and garden style the best.
5. Raised Garden Beds
Elevating the garden above the ground is one of the smartest decisions you can make if you want low maintenance garden beds.
Not only is it an excellent solution for poor soil conditions, but raised garden beds also are easier to work on since you can group plants that have similar needs.
If your garden soil is like heavy clay, you can take advantage of raised garden beds and create a great environment with new, clean, and fertile soil mixed with compost.
6. Add a handful of container plants.
You can spread these potted plants out throughout the garden. You can even place them by the edge of your stairs or in the shade by choosing plants that don't need much sunlight to bloom.
You can spice your garden up with stylish, modern, and elegantly designed containers filled with vibrant plants.
Maybe you could match your house decor with these containers and make your garden feel like an extension of your home.
They're easy to maintain, and you can keep shuffling things up to keep your garden fresh.
7. Self-watering pot plants.
Self-watering pots have become extremely popular these days because of their effectiveness and convenience.
Not only do they cut down on the chores you have to do, but they also keep the plants healthy and save water all year around.
Additionally, since the plants have access to water every second of the day, and the water reservoir bed is layered with mulch, there is less opportunity for weeds to grow.
What more could you ask for?
8. Use groundcover plants
Groundcover plants are an amazing way to transform areas that you don't want to maintain as lawn or garden beds while still keeping your garden green and beautiful. Do you have an ugly patch of dirt that you need to cover up or gaps between pavers that you need to keep weed free? Ground cover plants are the perfect low-maintenance choice.
With flowering and evergreen options, they can suit all garden designs and styles.
Some great options are:
Star Jasmine
Native Violet
Grevillias
Bush Mint
Pratia
9. Add Gravel to your garden floor.
If you choose to cut out most of your lawn space because you don't want to spend much time maintaining it, don't just replace it with hard landscaping.
Instead, install gravel to your garden floor.
This allows the rainwater to drain away without causing any potential flooding. So not only is it low maintenance, it's very practical.
And that's it!
Most of the low maintenance garden design plans we've mentioned are not just to relieve effort from your end but also budget-friendly.
If you'd like us to do all the heavy-lifting and build the garden of your dreams that is truly maintenance-free, give us a call at 08 6263 4645