Landscape design is an art.
As such, your outdoor space will be an expression of your personality and your style.
Your backyard is an extension of your home. It is no different than your living room, kitchen, or bedroom in that you want to your landscape to have as much character and style as the rest of your house.
It should come as no surprise that there are many style options to choose from when it comes to creating custom landscaping.
For that extra little something to really accentuate your landscaping, have a look at some of our tips below…
1. Light Up Your Custom Landscaping with Fairy Lights
The night sky is a majestic, awe-inspiring blanket that covers the land when the sun rests for the day. Wouldn't it be great to create an enchanting display right in your own home?
Lights create a sense of magic and add an intimate, romantic atmosphere to any landscape; twinkling fairy lights, strings of rustic lightbulbs, mason jars full of lights or tea candles …
Take your outdoors to the next level with the creative inclusion of lights within your design.
2. Entertain with Fire
No, not fire breathers or baton twirlers. Consider adding a fire pit or fireplace to your backyard. Both are excellent additions.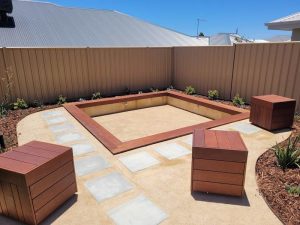 A fire pit can serve two functions:
Operating as an open fire for you and your loved ones to gather around
Cooking food
Cooking food might give the fire pit an edge if you like to entertain friends and family at home.
There are many choices to choose from, including a fire pit built into a table. Selecting the best one might be difficult but go with your personal tastes and the overall style and theme of your garden.
A fireplace is another great option, though you typically don't get the added bonus of cooking with one.
If you're just looking for something to sit around and soak up the warmth, this would be a great addition to unwind with.
3. Add a Gazebo or Pergola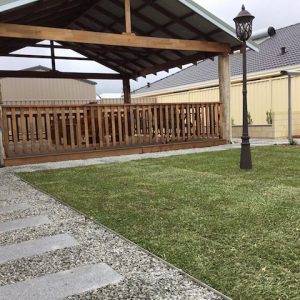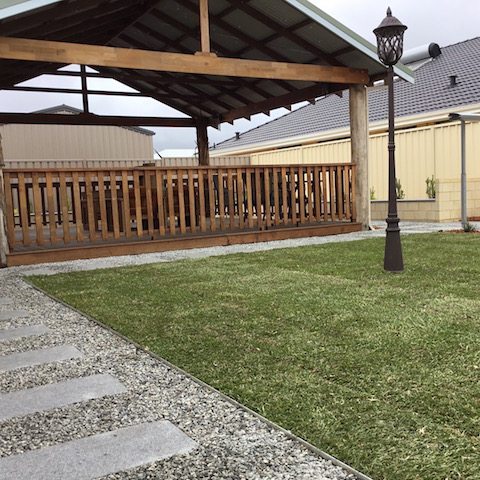 Maybe your ideal outdoor space involves hard landscaping. After all, what's a fireplace without a cozy pergola or gazebo?
A pergola will add a characteristic flair to your custom landscaping design by creating rustic charm. You may even look to incorporate vines depending on the style you choose.
A gazebo can add either rustic or elegant charm. It serves a similar purpose as a pergola but typically comes with short walls and a floor.
Ultimately, it will come down to taste and what sort of style and feeling you're looking to evoke with your landscape design.
4. Touch of charm
If you are looking for tranquil charm, the popular choice is to utilise features that look antiquated and simple, such as:
A wheelbarrow (wooden or metallic) filled with flowers
A trickling pond for that calming atmosphere the sound of water brings
A wooden bench flowing with the natural shapes of the wood and blending into your landscape
An abundance of plants – green or colorful
Using wooden materials will be a strong point in creating a rustic garden design, along with plants galore. Mix with fairy lights and you'll be transported to an entirely new world.
Need help with your garden design?
These are merely ideas to help get the creativity flowing in making the most of your landscape design. If you need any help, contact one of our expert garden designers and we will be happy to help you create the garden of your dreams!