Perth Landscaping Design & Installation
Client case study – Marcus – Backyard Re-design
At Perth Landscaping we love creating gardens you can be proud of – and that is exactly what we achieved for Marcus; a client with a very unimaginative and poorly-installed design who wanted a tailor-made, stunning outdoor area to integrate with his lifestyle and tastes.
Find out how we helped Marcus transform his 'developer's garden' into an amazing space where he can be truly Garden Proud!
---
Marcus approached us last year with a simple problem, his courtyard wasn't attractive. He described it as a 'developers landscape'; basic, as-cheap-as-possible and just designed to be sold quickly. The courtyard had cheap, synthetic grass, a poor selection of plants and a leaking irrigation system.
You can see from these before photos that it was made to just 'do the job', not to be attractive and appealing in it's own right.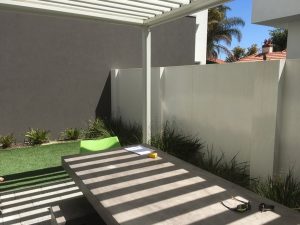 Marcus wanted a place to relax, where he can enjoy a glass of wine with friends and impress his guests with his taste and style.
After consulting with Marcus, we decided to create a low maintenance and easy-care landscape; creating the look and feel he was after by using native plants, corten steel made-to-measure garden beds and a lighting plan which provides ambience for those after-work drinks.
The process wasn't easy as these new developments in the city have very narrow access. Our team had to navigate through the garage and laundry to access the back courtyard with all materials and tools. We removed a few cubic meters of sterile soil and waste and brought in a rich soil mix through the tiniest access. As our classic wheel barrow would only just fit through the doors we had to go and buy the smallest wheel barrow we could find.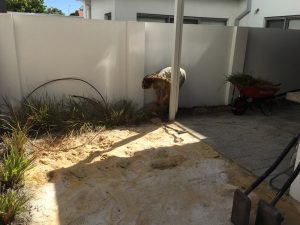 We created a low maintenance garden using mostly native and careful low-care plant selection. The use of a thick layer of mulch helps prevent weed growth and installation of a drip irrigation system combines to make an almost maintenance-free garden.
This small space has truly turned into a beautiful yet functional garden, and we have carefully used design elements to help the area feel warm and ambient but not cluttered. So even if you have a small space to work with, a thoughtfully planned landscape design will always help you get the most from your outdoors.
Garden Features: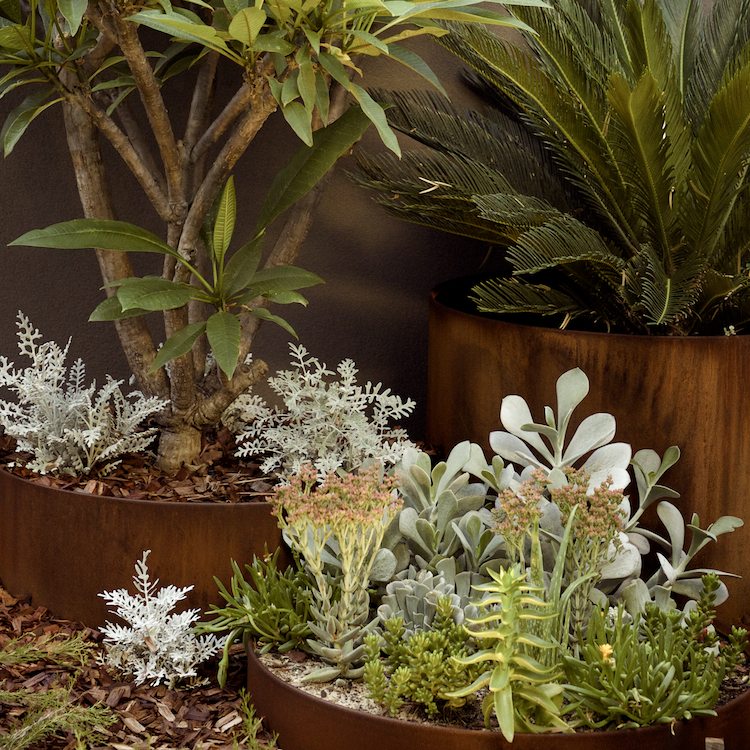 Made-to-measure corten steel garden beds planted with a magnificent cycad, a frangipani tree and variety of succulents for depth and colour.
A leaf sculpture wall feature, enhanced at night by the use of spot lighting.
The northern wall has been mounted with stainless steel wires crossed over in diamond shapes, which will be used as a climbing frame by the Trachelospermum jasmnoide (Chinese Star Jasmine).
The final design is stylish, welcoming, complements his lifestyle needs, and is now the perfect place for Marcus to host guests on the weekend, or enjoy a peaceful evening with his family.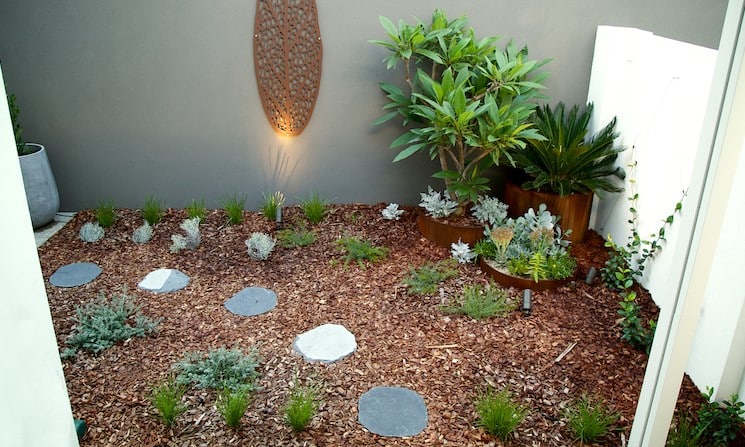 And topped off with a little Thank You gift from us – a stunning (and low-maintenance) succulent bowl.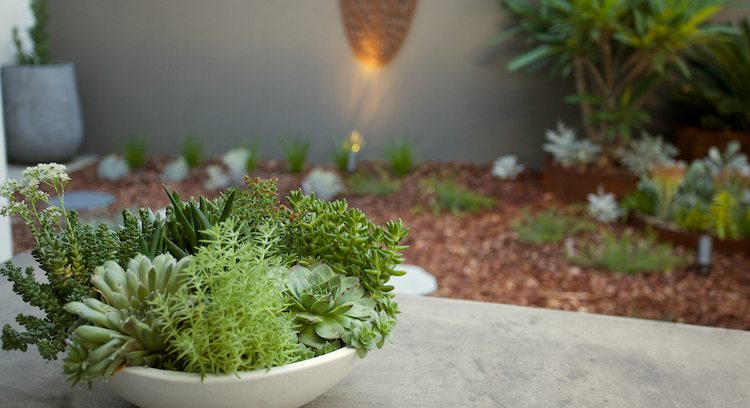 We are very pleased with how it turned out – but don't just listen to us, here is what Marcus has to say…
If you too are wanting to transform your property and create a stunning landscape find out more about our landscape services or get in touch