Pool Plant Design
A pool is a must-have in Perth – it's hard to get through those 40+ degree days without one! If you are looking to have a pool installed or wanting to create a gorgeous design for your existing pool that includes a lot of foliage, it's important to have a good idea of what plants will look great without causing issues in the future. Most people would think to get a garden design before beginning to landscape their outdoors – but it's just as important to have a good pool plant design before adding a bunch of plants to your pool area!
For example, some trees have very determined root growth, such as bamboo, umbrella trees and rubber trees, which can cause serious damage to your retaining walls or pool itself, while plants which attract bees and drop masses of leaves when it's warm and you want to be swimming in clean and safe water, are probably not the best choices in close proximity to your pool.
IMPORTANT – Consider these before beginning to choose plants for your design…
Do you have or plan to use limestone retaining walls in your pool design? This can make soils alkaline so make sure to choose plants which can cope with a high pH soil.
Is your pool saltwater or chlorinated? If your pool is used as a bombing and playing area, not just causal dips to cool off, you will want to look for plants that are ok with being splashed (or drenched) with either salty or chlorinated water. A good tip; look for plants with silver, furry or waxy leaves – these are usually pretty happy to be near saltwater.
Are you planting near a fence/wall? Fences heat up which then heats the soil so, combined with the reflection of the sun off the pool, your plants are in for a tough time. Choose hardy plants like our sturdy native Australian types that are used to hot and dry conditions, or make sure you feed and water the plants in your pool area a bit more than the others in your garden.
Where to start?
When designing your pool area, start with the larger shrubs/trees and choose where you want shade – maybe at one end of the pool so you always have the choice between sun and shade? Stay away from plants like the stunning Jacaranda which, sadly, have fine foliage, flowers, seed, pods, bark and twigs… the bane of any pool-owner's existence. Remember – you will be cleaning that pool so choose plants that won't make your life harder!
Note: although deciduous plants would seem to be on the 'naughty list' for a pool plant design, they tend to shed during winter in Perth. They do however hang on to their leaves in summer, so are worth considering if you love them and want to include them in your garden design.
Larger trees and shrubs that work well around pools are…
(these are also all limestone-tolerant)
Hakea laurina or also known as Kodjet, Pincushion Hakea – can reach 5 meters in height.
Hakea petiolaris or the sea-urchin Hakea – can grow 2-9m high.
Leptospermum sericeum or Silver Teatree – can grow up to 1.5m, makes an excellent hedge.
Banksia integrifolia or Coast Banksia – can grow 5m or higher depending on location
Dodonea viscosa purpurea or Purple Hopbush. Can grow up to 5m tall
Adenanthos sericeus or Woolly Bush – cand grow 3-5m tall.
Acacia saligna or coojong, golden wreath wattle, orange wattle, blue-leafed wattle and Western Australian golden wattle – depending on the sub-species chosen they can grow from 2-8m tall.
Acacia coriacea or river jam, wirewood, desert oak, wiry wattle or dogwood
Grevillea longistyla – can grow up to 3 – 4m high and 2 – 3m wide.
Privacy – create a natural screen
Nobody wants to have their relaxing swim interrupted by the prying eyes of a neighbour or see a nice plumber shot of the guy working next door when quietly sipping a drink by the pool. This is where a good hedge, or a green-screen (as we like to call it), comes in to prevent these unfortunate events from intruding on your little oasis.
Decide how high you need the hedge to be based on the pool design, often 1 – 2m will do quite nicely, and what kind of look you are after, formal and well sculpted or more natural.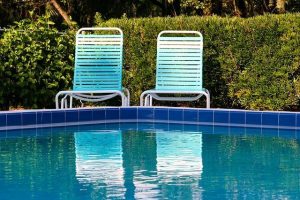 Shrubs for creating your 'green-screen' include…
Ozothamnus diosmifolius or Radiance/Rice Flower – produces flowers almost year-round so avoid planting right next to the pool and increasing clean-up duty!
Hibbertia cuneiformis or cut-leaf Hibbertia – WA native.
Westringia brevifolia or 'Lilac and Lace' / Coastal Rosemary – native and evergreen.
Westringia 'Wynyabbie Gem' – native, grows dense and bushy.
Eremophila or 'Wild Berry' – native, also flowers year-round.
Grevillea rosmarinifolia or Spider Flower – native, dense and bushy evergreen foliage.
Banksia media or the Golden Stalk Banksia – native, grows in all soils – including sand.
Select plants to include in your design that are evergreen and flower in summer, making sure that your design looks good when you need it (swimming season!), as well as staying an asset to your landscape year-round.
The best way to make sure your pool is both a beautiful green haven and a safe and low-maintenance area, is to check with a professional landscape designer. They won't just take looks into account, but will know what is best for your area based on soil, location, climate, and the myriad of other details that can't be condensed into one blog post!
If you would like one of our landscape designers to help with your pool plant design, please get in touch – we can both design and install and would love to assist with your pool design!