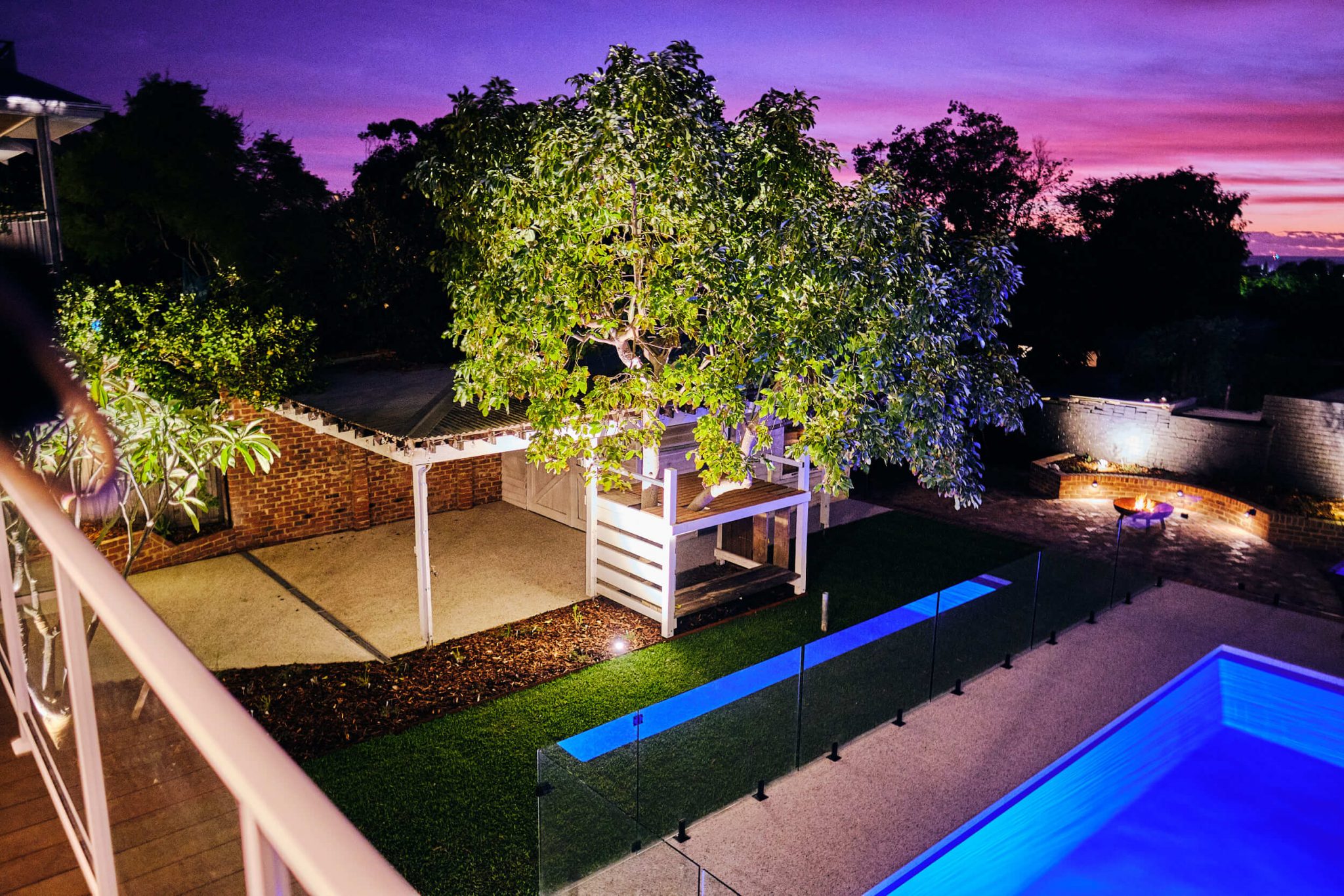 Our clients, Renee and Andy, were looking to transform their overgrown backyard into a beautiful space that they, their 2 kids and their dog Queenie could enjoy! They had previously had a design drafted by a landscape designer, and now needed a professional company to help them touch up and finalise the design and then bring it to life.  
PLG handled the entire process of the Landscape Construction and Project Management, along with a full Reticulation system design and install.
As you can see, their backyard was in need of some TLC! It was simply too much for them to maintain, didn't provide a safe space for their kids to play in or grass for the dog to enjoy. They needed an overhaul! 
Since the landscape was totally changing, it required a full site prep, along with the removal of a few old trees and (much more than) a few loads of dirt to reshape the site. We were even able to relocate a mature frangipani tree they wanted to keep 2 metres to the left so it would suit the design. 
Our teams also constructed retaining walls out of recycled red brick at the back of the property and dug in new soak wells – as the previous drainage system was poor. Unfortunately for our poor guys, the soil was chock-full of limestone rocks which required an excavator, a rock breaker and some hard yakka to remove.
We also had to run new pipes for the drainage. This should have taken a day but took 3 because of all the caprock which needed breaking and excavating. You never truly know what's under the surface until you start digging!
Once the site prep was finished, we were ready for the pool to be dug and installed, then the gorgeous exposed aggregate concrete poured for the new driveway, pool and alfresco area. As happens sometimes, the pool company didn't put the pool exactly where it was supposed to be on the plan, so we had to make some design adjustments on the fly so the end result would still be what the client wanted. It pays to be landscape designers as well as constructors! 
In order to build the new terrace, we had to create a vertical exposed aggregate wall to act as a retaining wall – just a small extra challenge for the team! Then, we custom-built an automated irrigation system for the lawns and garden beds – easy, hands-free watering for Renee & Andy from now on!
The clients also had internal renovations happening throughout our entire project, so there were always plenty of tradies on the site working around each other… a big thanks to everyone involved for their patience – we got there in the end! 
Once the hardscaping was complete, it was time for our favourite part of almost every project – adding the greenery!  Our teams installed a new lawn, installed and planted the corten steel-edged garden beds with the selection of native plants, mulched with a rich red mulch for a great colour-contrast against the green lawn and clean white aggregate.
Finally, the finishing touch of garden lighting was added and they were ready to sit back, relax and enjoy their gorgeous new landscape! 
Once an overgrown area, now it is now modern and full of things to do – from days by the pool to evenings around the firepit, or parties in the new alfresco area.
We are happy to say that our clients are stoked! They now have a gorgeous area to enjoy, their kids (and Queenie!) are happy, and they even have a great view from their deck to enjoy at night. 
"My husband suffering a severe stroke at only 45 years in October, was the catalyst for us reaching out to Tibo, being keen to make quick improvements to the functionality and safety of our backyard and driveway. Tibo and his whole team were a delight to deal with. They worked alongside and assisted contractors they'd never met before who were completing other internal work, went above and beyond and were flexible and adaptable when the inevitable challenges of an old house sitting on limestone rock was destined to bring. We now have a useable, safe and beautiful space and look forward to watching our WA Indigenous species grow over the years to come. Thank you!!!"
Can we help you transform your property?
Get in touch with our team today!