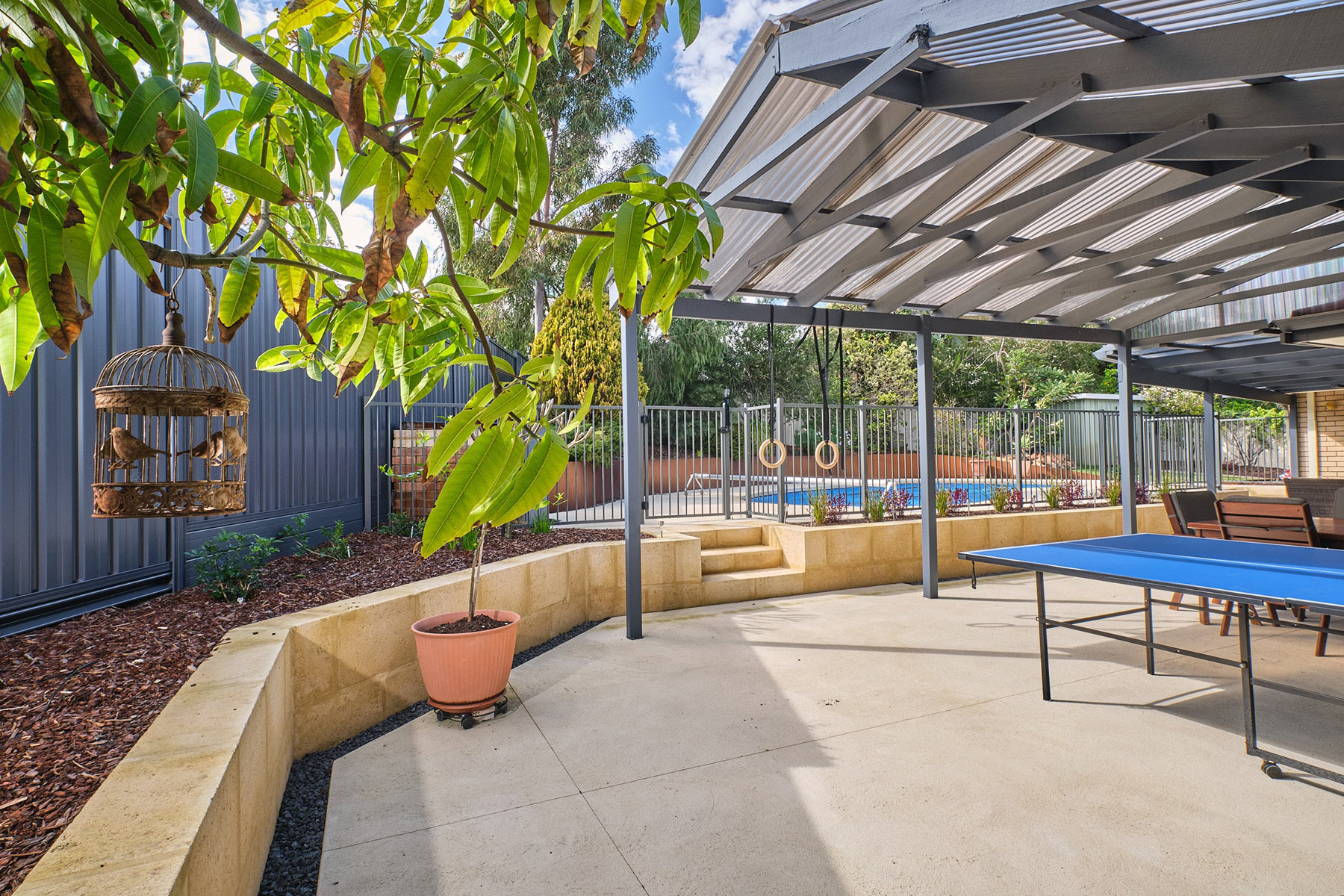 Our clients wanted to take their old brick-style outdoor entertaining and pool area and modernise it. While giving it a totally fresh, spacious and lush look, we made sure to keep it in line with the look of the home so they complemented each other and didn't look disconnected!    
PLG handled the entire process of the Landscape Design, Construction and Project Management, along with a full Reticulation system design and install.
As you can see, their backyard was in need of some TLC! It was simply too much for them to maintain, didn't provide a safe space for their kids to play in or grass for the dog to enjoy. They needed an overhaul! 
Everything had to go! All that old brick was removed, the site was prepped and leveled while keeping true to the original layout. The old fencing around the pool was removed, ready for a more modern look, and the old brick retaining wall around the pool was replaced by corten steel – rusted to perfection.
We built up the sides of the house to create stepped garden beds, the side fence was removed and replaced with a new and modern colourbond fence.  In short, out with the old and in with the new!
Limestone retaining walls, fresh new poured concrete to replace the old brick, and create an overall modern look for the pool, alfresco and entertaining area. 
New raised wooden garden beds were custom built to create an easy-care vegetable garden for the client. Low maintenance garden beds were planted around the pool area which will be easy to maintain, and have non-invasive root systems which will not impact the pool in the long term. 
Gravel edging around the pool and pathways allow for easy drainage and run-off to keep areas clean and dry, while the use of succulants, natives and low-maintenance planting will make sure things stay beautiful without lots of hard work for the client.
Great landscaping and smart landscape design is in the details.
This landscape project was completed in time for summer so the clients – and their kids! – are thrilled. 
Now they have a modern outdoor space which is perfect for their lifestyle, easy to look after and constructed to be an asset to their home for the long term.
Can we help you transform your property?
Get in touch with our team today!