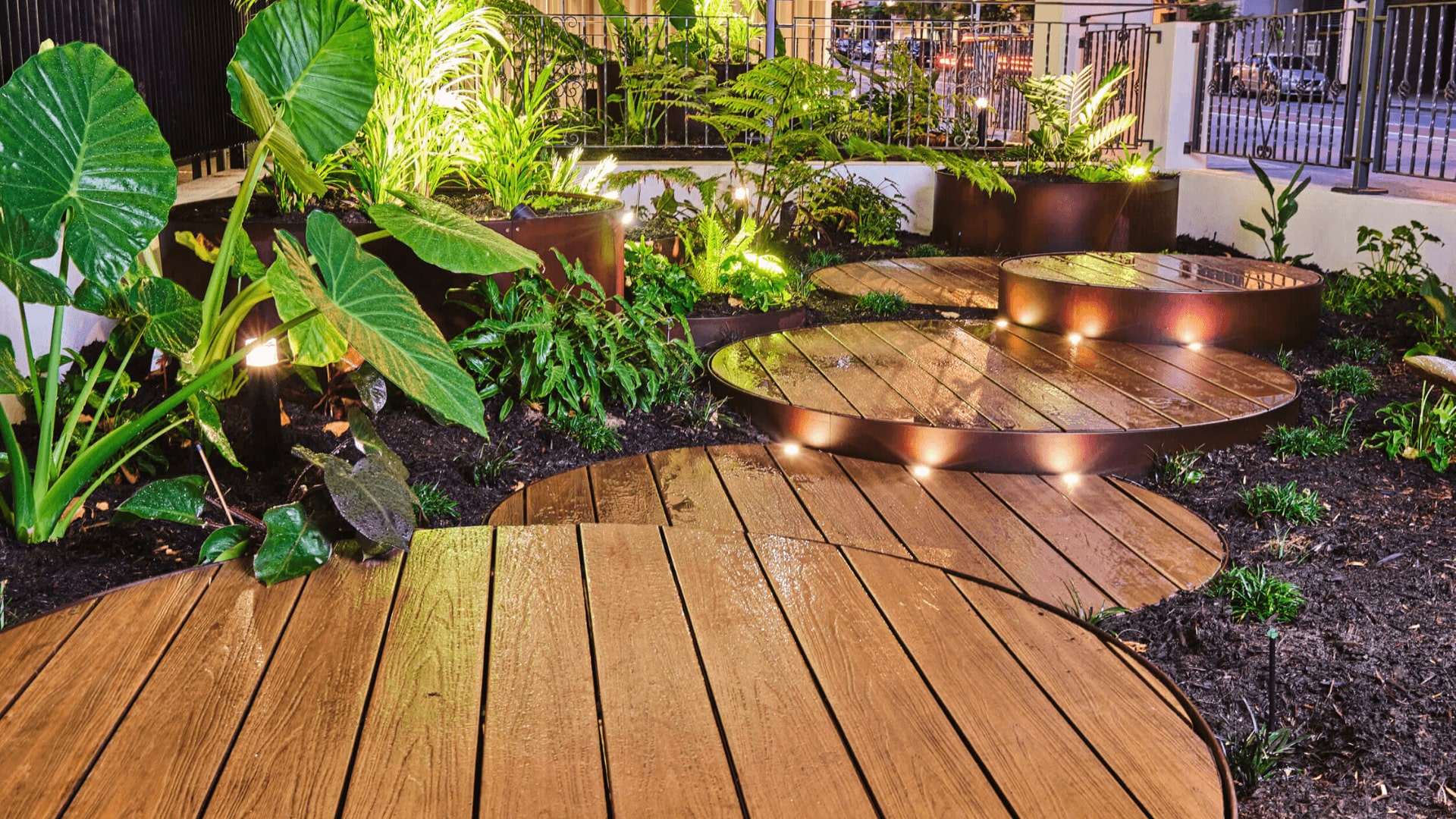 Perth Landscaping Group recently completed a full design & install for the 169 Hay Street building in Perth's city centre, handling the Landscape Design, Project Management, Construction, and full Irrigation system.  
The client was looking for a feature garden to be created for the entrance of their building. Right in the city centre, and facing the main road, the space was an empty, sandy eye-sore – and they wanted to make a statement.
Our team had to build the 'deck pods' first, as the rest of the design would be installed around them. First, we modelled them in 3D, so that our corten steel contractors, Green Earth Enterprises, could manufacture the corten steel skirting needed.

Due to the garden's covered location, we decided on a more tropical style selection of plants to create a lush 'secret garden' look, and so that, despite the limited sunlight, they would thrive in their location.
As the existing soil was poor quality sand and wouldn't support the healthy growth of the new plants, we had to bring in totally new soil. Due to limited access and all the regulations that come with working in the city centre, we chose to 'blow' the soil in using a specialised company – Perth Material Blowing. 
This machine allowed us to install 10-cubic metres of soil in just one hour – by hand, it would have taken our team around 12! We also improved the soil again, using a layer of compost, a layer of hay and then adding the mulch on top. This helps to kickstart the micro-life in the soil, it can continue to improve itself with time. We chose a karri and peat mulch because we wanted something dark to suit the tropical theme and make the gorgeous colours in the design pop! 
We installed high quality garden lighting to provide highlights and make sure the garden is still able to be appreciated at night and planted our lush, tropical greenery in the beds and throughout the garden.
Now, our client's building has a gorgeous, lush oasis by the entrance to welcome their visitors and employees, instead of a barren, empty space.

Could your commercial premise use a professional landscape design and install to impress your visitors and create a welcoming natural environment for your team to enjoy?
Talk to our team at Perth Landscaping Group today for an assessment of your space…