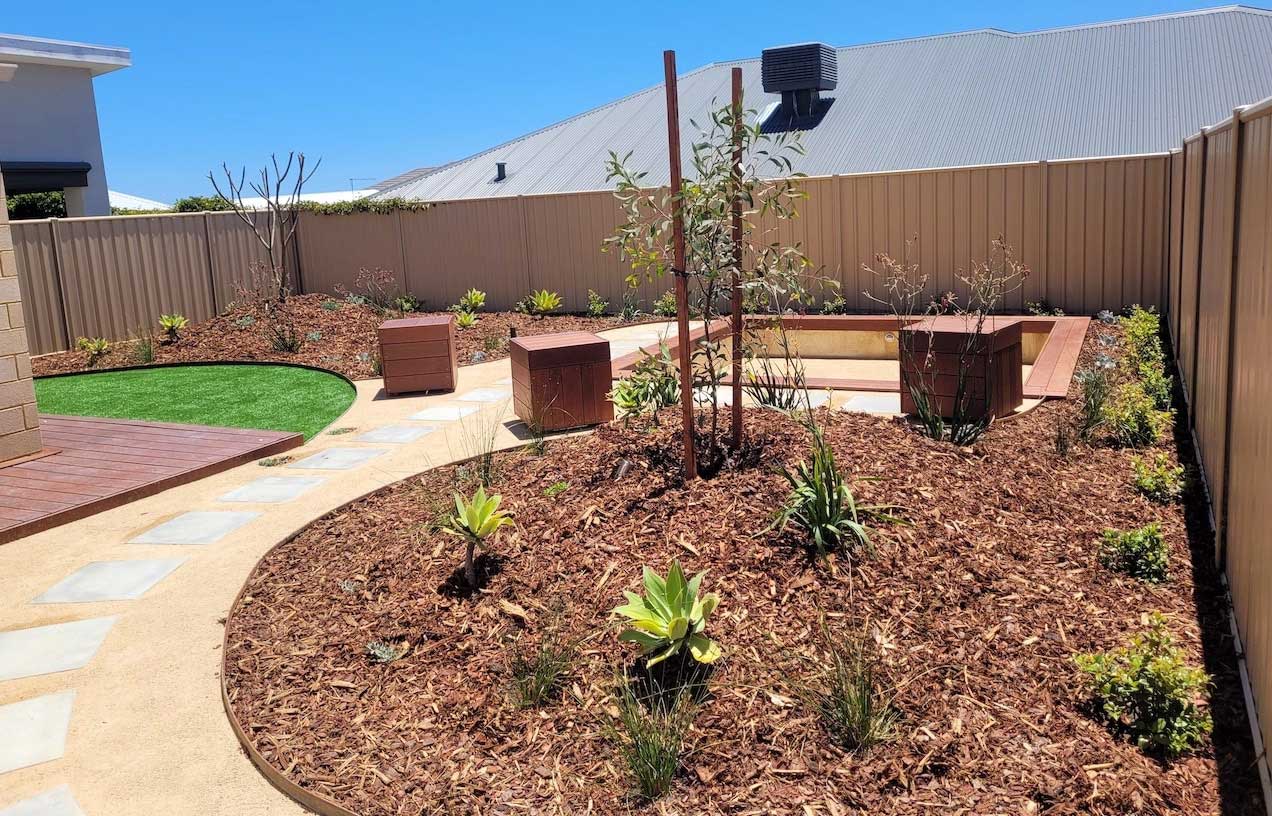 These clients had a very basic backyard design with just grass and decking, and it was time    
PLG handled the entire process of the Landscape Design, Construction and Project Management, along with a full Reticulation system design and install.
The landscape design needed to create a functional, low-maintenance landscape out of a fairly small space. Our designer managed to include a fire pit with plenty of seating space for entertaining, a turfed area for the kids to play on and the use of mounded earth garden beds create the illusion of space and add interest to the landscape. 
For the backyard, we needed to bring it back to a totally blank canvas, removing the grass, old paving and deck extenstion, but for the entryway, we retained the decking to use it within the new front yard design.
Once we had a blank canvas to work with, the real site prep began. Using the soil and sand dug out for the fire pit area, we created the mounded garden areas, reducing the extra expense of trucking it away. 
We added fresh quality soil and improvers for the planting to make sure the new plants we installed will be able to grow and thrive. 
Limestone retaining walls, fresh new poured concrete to replace the old brick, and create an overall modern look for the pool, alfresco and entertaining area. 
New raised wooden garden beds were custom built to create an easy-care vegetable garden for the client. Low maintenance garden beds were planted around the pool area which will be easy to maintain, and have non-invasive root systems which will not impact the pool in the long term. 
We constructed three custom seating boxes out of the old decking we removed to create additional flexible seating while also being a garden feature on their own. A new automated reticulation system was installed to ensure easy-care gardens, corten steel edging was used to define the garden and pathway areas to create clean lines and keep the mulch and plants where they are suppposed to be! 
Everything was completed with care and quality at every step – no corners cut around here.
Completed the month before Christmas, the clients are excited for summer and the holiday season in their new backyard. They were so pleased with the results that our head landscaper was given a bottle of quality scotch as a thank you for all his hard work! 
 Stylish, unique and going to look even better once all the plants grow in, it's another successful outcome for Perth Landscaping Experts.
"We couldn't speak more highly of these guys – they did a complete transformation of our front and back yards in 3 and a half weeks and it was utterly stress-free (coming from a control freak too). Thibaut, Mark, Penny and the rest of the team were wonderful to work with, but I have to say a special thank you to Mark who put in so much effort and labour into our project. Mark, you were so easy to communicate and collaborate with. When we threw a spanner in the works and changed our mind on the front yard design last minute, it's as if you could read our minds and the turnaround you made on that was exceptional. We love watching our plants grow and establish and can't wait to see it flourish over the coming months!"
Can we help you transform your property?
Get in touch with our team today!