Perth Paving Services
Professional paving design, supply and installation for Perth properties
Practical, durable, and easy to maintain, paving is ideal for any outdoor space.
With a variety of colours and finishes available, the options are endless when it comes to paving solutions for your property. Create steps, stairs, tiers, walkways or pave your terrace, driveway or even your pool area. We can also help with repaving, restore old paved areas or come up with a whole new design.
You can trust our expert Perth Landscaping team to deliver quality workmanship and paving services that look good – and last.
Professional Perth Paving Solutions
Whatever your landscaping project needs, our expert team will be able to supply and install the right paving solution to suit.
We can source locally from our trusted paving suppliers here in Perth, or even import if you are after a unique look to really accentuate your design; such as handmade pavers blessed by monks from Italy – it's been done before!
We have a range of different colours and finishes for you to choose from, or consult with our designers to see what will best suit your space.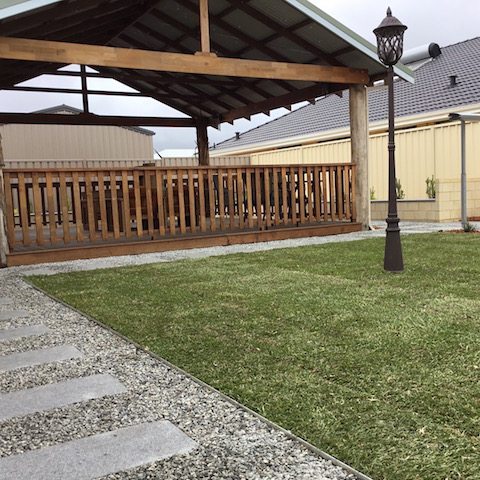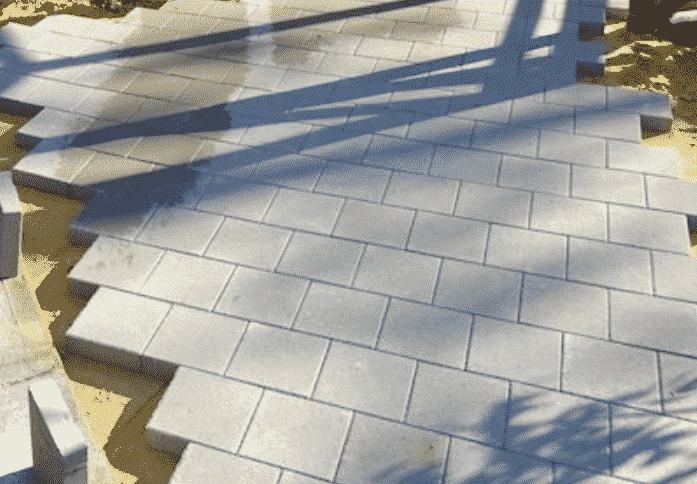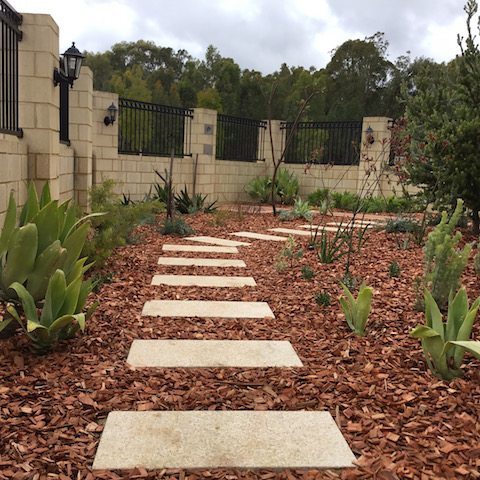 Complete Paving Services:
✓ Residential Paving
✓ Commercial Paving
✓ Driveway Paving
✓ Pool Paving
✓ Patio Paving
✓ Paving Renovation and Restoration
Supplying All Paving Options:
✓ Natural Paving Stone
✓ Garden Slabs
✓ Natural and Reconstituted Limestone Paving
✓ Clay Pavers
✓ Concrete Pavers
✓ And more…
Know exactly what you need?
 If you already know the paving material you require and can provide the measurements of the area to be paved, we can provide you with a free estimate* to help get your project going.
*Will not include site preparation costs.
If you don't know this level of detail yet, you will need to book a consultation with one of our landscapers below.
↓
Need Help With Your Landscaping Project?
If you aren't sure what paving solution is best for what you need or you also require other hardscaping elements for your landscaping project and want to run your ideas past a professional Landscaper and get advice, suggestions and a quote for your full project – you may want to book in a Landscaping Consultation.
Paving Suppliers in Perth
Looking for some inspiration?
With so many styles, materials, sizes and colours available, it is a great idea to have a browse through some of the Perth paving suppliers websites to see what is available, along with figuring out what you do and don't like before you give us a call.
To help you, these are some of the most popular paving suppliers in Perth – Brikmakers and Midland Brick are more affordable, while Freo Stone and Eco Outdoor offer more premium materials. 
Have a look at what they offer and get in touch with us. We can order, pickup, deliver and install the paving material of your choice.
Frequently Asked Questions
Have a read through our frequently asked questions about our Perth paving services – if you don't find the answers you are looking for, just get in touch with our expert Perth Landscaping team!
What are the best pavers for a driveway?
There are, as always, many paving options to choose from, but we recommend brick, concrete and asphalt. A great choice for a clean, modern look is concrete aggregate – and it is also a long-lasting paving choice as there is no chance of weeds growing through cracks or one or two areas getting damaged – as happens when brick or other pavers are used. If you aren't sure what paving options there are or what pavers to use for your driveway, book in for a professional consultation with our Landscaper.
How much do your paving services cost?
How long is a piece of string – or your area to be paved? But seriously, every property will be different as it isn't just a case of the size of the area and the materials, but also the site prep required to make sure that whatever paving solution we choose will last! The best way to get a price for your exact requirements is to book in a landscape consultation with us. This way we can advise you on the right paving options for your property, space and budget, but also make sure that we are taking into account professionally preparing the area
I don't know what pavers I should choose – can you help?
Absolutely. Our landscapers have used almost every paving material there is and are the experts when it comes to making sure we choose what is best for your look, landscape and budget. Just book in for a consultation and we will help you make the right paving choice.
Why has my block paving 'sunk'?
This is, unfortunately, a common problem and usually due to one key thing – when the site hasn't been prepared properly before paving the area. Having a landscaper who understands not just how to choose the right paving material, but how to properly prepare the site is key to a long-lasting paving job that looks good and stays strong! You may need to pay more upfront but it will save you a lot of hassle and more costs in the long run. Do it once, do it right!